Custom Engraved Phenolic Plastic Equipment Nameplates
Plastic phenolic name plates and tags represent a pinnacle of durability and versatility in the realm of industrial labeling. Crafted from high-quality phenolic resin, these name plates and tags are engineered to withstand harsh environmental conditions, making them ideal for both indoor and outdoor applications. The inherent strength of phenolic plastic ensures longevity, making these plates resistant to abrasion, chemicals, and extreme temperatures. Their robust nature makes them a preferred choice in industries such as manufacturing, aerospace, and automotive, where reliability is paramount. What sets plastic phenolic name plates apart is their ability to retain sharp, clear, and permanent engravings or printings, ensuring vital information like serial numbers, safety instructions, or identification details remain legible even in demanding circumstances. This exceptional durability, combined with the flexibility to be customized into various shapes, sizes, and colors, makes plastic phenolic name plates and tags an indispensable solution for businesses seeking enduring and high-quality identification solutions.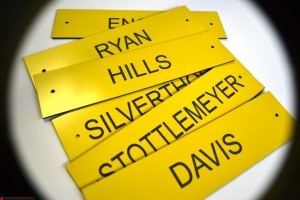 We specialize in Custom Laser-Cut UL Approved Phenolic Decals For Data Centers – We are a Five-Generation Manufacturing Business and we've been through all the technological advancements from the wooden-handled rubber stamp to laser-systems that cut Aluminum tubing on a 3D axis. You're finally in contact with Laser.us and we will help simplify your experience by offering expert ideas and service all the way from prototyping to the finished product. We understand the importance of rush requests and firm deadlines. We accept many different special requests and do our very best to accommodate your deadline restrictions and ALWAYS strive to hit the mark you need us to make.
If you need UL Approved Custom UL Approved Phenolic Decals For Data Centers; you came to the right place. We can custom laser-cut acrylic to virtually any size or shape. We can produce parts quickly and ship across the country! Check out our company history here! At Laser.us we specialize in making products custom-tailored to the rules and necessities of data centers. For example We can laser-cut acrylic backing plates and parts for electrical housings that need to light up. We offer Acrylic in many colors and various thickness; and we cut it to almost any size or shape imaginable, allowing many options to meet your precise specifications and ideas.

Be as specific or nonspecific as you need to be. We will create a unique quote based on the requests of your order. If you would prefer to provide the material that you would like us to engrave, you can have your items shipped directly to us. If it's something we can provide or make from scratch, we can ship the finished product to you directly via UPS. We send packages all across the globe. We can't wait to hear about your laser engraving project!
Since laser cutting is a flexible process, playing with laser beams is our passion and specialty. We are able to laser-cut, laser-etch and laser-engrave anything you put your mind to. Creativity and originality drive us to create laser-cut metal parts, no order to big nor to small. When considering laser cutting metal parts, there are endless possibilities to choose from; missing metal parts, metal designs, metal nameplates, metal tags, keys, and more! That is why laser cutting is such a versatile process. Who the hell said metal is too hard to laser-cut?! On the contrary, if you compare with other methods, laser-cut metal parts are one of the most precise, efficient and unproblematic processes. We can laser-cut anything you can dream of: custom metal parts in tags, images, nameplates, marks, etc.
Order Custom Engraved Phenolic Plastic Equipment Nameplates!
Got a Project? Fill Out This Quick RFQ Form  
800-482-1553
– OR –
MONDAY – FRIDAY : 9:00am – 5:00pm EST