Laser engravable materials are what you need. "Why?" you might ask. "Why do I need laser engravable materials?" I'm glad you asked that question! You need laser engravable materials for one simple reason: because they are amazing. They are like regular materials, only 47x better. That is a real number which we arrived at through science. Once you engrave your laser engravable materials, they become forty-seven times better than they were before. You can't argue with math like that. They have a number of advantages over their non-engraved counterparts. For one, they don't get lost nearly as often. If someone's borrowed your custom laser engravable materials, there's never any question or discussion when you retrieve it about whether or not it was yours. If it has your name on it, or it matches the other tools that you've had engraved, then it's an open-and-shut case.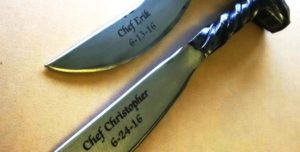 Obviously, laser engravable materials can still get actually lost if you can't find where you put them. But let's be honest. Most times if an item is lost, it's not because you forgot where you set it down. It's because someone else borrowed it and didn't give it back. That's the way the world works. And even if no one's borrowing your stuff, you'll still want laser engravable materials because they just look better. And when materials look better, they work better. That's another science fact. If you don't believe us, get some and try it out for yourself! You'll see pretty quickly which are superior. Hint: it won't be the plain, generic ones that everyone has. Those have low self-esteem which impacts their job performance. The engraved ones, though, know that they're special, and that's clearly reflected in their work. Invest in your materials. Invest in yourself. You deserve this. Not sure which tag fits your needs? CLICK HERE!!!!
We'll engrave anything. Aluminum, Acrylic, Glass, Plastic, Leather, Stainless Steel, Stone, Wood…We engrave it all! We will not engrave people or animals. Laser engraving Variable Data is what we do – We do not condone applying lasers to people. That's strictly a Bond villain move, and that's not who we are. Look around your home, office or space station. So many blank surfaces! Bring your Variable Data to us. Let us apply our lasers to them. Any words, any image, anything you can imagine! We will engrave it all for you, and we'll do it at rates you won't even believe. To clarify, our rates are unbelievably good. You'll be pleasantly shocked to find that you can't believe them. Contact us today, so we can engrave your Variable Data! Let's get our lasers and your surfaces together. UPS will deliver packages of engraved Variable Data anywhere else in the Lower 48, all you have to do is a provide an address that is not a P.O. Box and pay for it.
Laser Engravable Materials Set Your Set Apart!
Email Us Directly! Call Us! – 804.234.4990