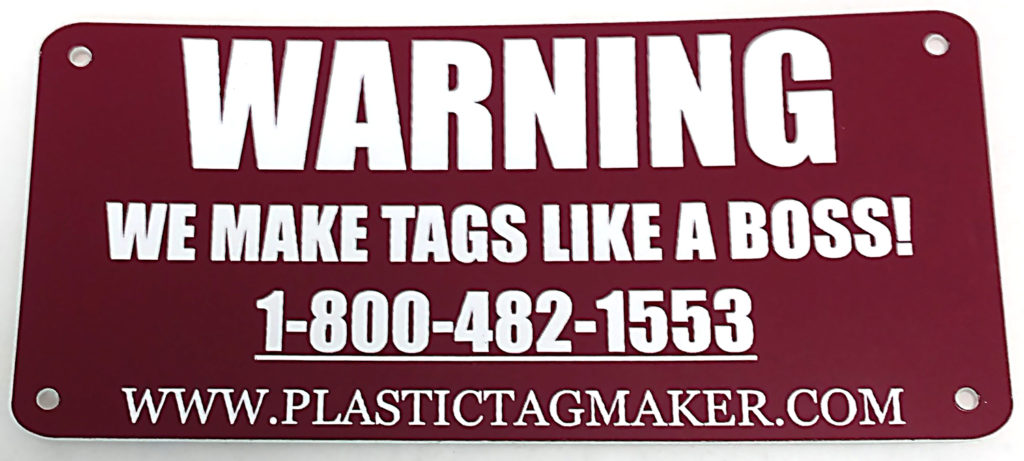 Custom plastic tags have a plethora of uses. You can label your computer, your car or your canisters. You can even use them to identify yourself! That's true versatility. You can count on custom plastic tags to last for a very long time. Custom plastic tags can't be torn. We've got a variety of methods to transfer your information onto your custom plastic tags.  We can engrave, laser-etch, anneal or pad print any images or text you need! What's more, we can cut your custom plastic tags to any size, shape or thickness. Circles, squares, rectangles or flowers — we can do it all! If you need your tags to be on a solid plastic cube for some reason, we can do that, too. Seems weird, but we won't tell you what to do!
Custom plastic tags are great for marking one item, but they're even better when you've got a multitude of similar items. Inventory tracking is a breeze when you've got convenient, easy-to-read labels affixed to each item you're trying to track! No more squinting for serial numbers. Printed custom plastic tags display the information you need clearly and indelibly. With as long as they last and as useful as they are, plastic tags are the most cost-effective solution available. We can engrave as many tags as you need, from one to ten thousand, and drop ship them directly to your business! Just send us your information via the RFQ form just below this paragraph, and we'll get you set up with more tags than you can handle. We're about to make your life the easiest it's ever been!
What Will You Do With Your custom plastic tags?